Lake Shore and its employees hold an annual Food Drive supporting the Westerville Area Resource Ministry (WARM). Each year, since 2006, our employees have exceeded the previous years' donations to WARM, which has enabled them to reach out even further into the community with a hand up. Since adding our second location in 2020, we have also partnered with Council of Social Concern in Woburn, MA, to donate to their food bank.
We also partner with Westerville Caring & Sharing and the James L. McKeown Boys & Girls Club of Woburn every year to donate gifts to children and families who may not otherwise receive them.
We are a proud sponsor of numerous local Robotics leagues in Central Ohio to invest in students' passion for STEM and support future generations' endeavors to advance science.
Lake Shore recognizes it is our responsibility as good corporate citizens to help enrich the surrounding communities of residence and work by contributing both monetarily, as well as through volunteerism, to community-sponsored events. Every employee receives 12 volunteer hours per year to support the organizations that matter most to them. Additionally, since the company is primarily involved in technical areas requiring strong educational backgrounds, educational endeavors will be a main focus in our corporate giving approach.
Please forward any requests for donation to hrdept@lakeshore.com and they will be considered and reviewed within the parameters of our corporate giving policy.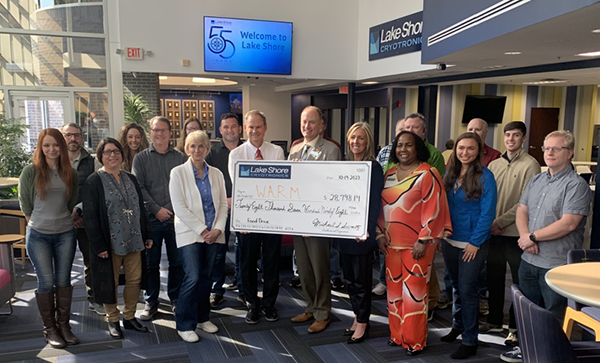 Lake Shore President and CEO Michael Swartz presents a check for $28,798.14 collected during the 2023 fall food drive to WARM.